Santa Fe Neighborhood Grill Menu
Entrees
All entrees are $9.00  (All Mexican entrees are served with rice and refried beans)
Smothered Burrito – Pulled Pork wrapped in a four tortilla, smothered with your choice of chili sauce below. and sprinkled w
Enchiladas – Three corn tortillas, stacked pancake style, each layered with your choice of sauce and sprinkled with cheddar cheese. (You may request to add pork or one egg on top at no extra charge.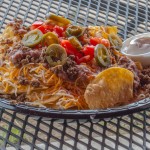 Choices of Chili Sauce
ith cheddar cheese (You may request chili to be, on the side  Red Chili

  Green chili

  X-mas style (Half red chili and half green chili)

Taco Plate – Three fried corn tortilla stuffed with ground beef, cheese, lettuce and tomatoes
Taco Salad – Tortilla chips, lettuce, tomatoes, refried beans, ground beef, black olives, avocado, and shredded cheese with your choice of ranch or Italian dressing on the side.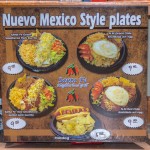 Nachos – Tortilla chips topped with refried beans, ground beef, shredded cheese, tomatoes, jalapeños, and topped with a dollop of sour cream.
Quesadillas – A tortilla folded over a filling of your choice of pork or grounded beef, shredded cheese and jalapeños/chili fried, with a side of sour cream
BBQ Slider Plate  – Sliders filled with pulled pork smothered with bbq sauce, served with potato salad and baked beans
Hot dog and bag of chips ($5.00)
Chips and Salsa ($2.50)